A Great Place to Have Fun and Joy
Melaka Wonderland Theme Park & Resort features more than 12 attractions, is filled with a whopping 2 million liters of water. Come experience Tornado Chaser (1st in Malaysia), Lazy cum Crazy River, 1 Big Wave pool, Adventure Island, etc and be surrounded by 360 hectares of natural recreational forest. Melaka Wonderlands exclusive attractions promise unlimited fun, taking every visitor on a thrilling ride and breathtaking view of a natural forest.
Explore Our Rides & Attractions
Get your legs some work out or take up the rowing challenge with a partner and navigate your way around the lake in this fun size tube.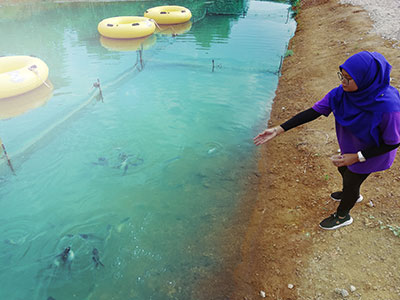 Get up close with the fishes in the lake and do not let them go hungry while you are there. Feed them and watch their excitement.
Meet and feed out cuddly and friendly rabbit. Relax your mind by watching them run and play around you while you are there with them.
Ever wondered how it feels like to get into a tornado? Come experience our Tornado Chaser, the first ever in Malaysia. Riders are sent rotating into a giant 'bowl' and then descended through a darkened tunnel and into the landing pool below.
Let the race begin! The Kamikaze Racer is a 6 lane high speed nat ride where riders race head-first and side by side down the 6 lanes.
Dubbed as the 1 Big Wave in commemoration of 1Malaysia, here is where you experience gentle rolling waves and beachfront like deck space where parents can relax while their kids play.
Simple and yet fun! Our Pony Ride is a single lane slide when a rider slides down to a clear blue pool.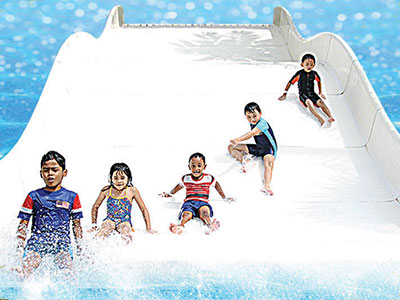 Family Jollies features a combination of slides for a splashing good time with your family and friends.
This four-storey slide takes you into sloping rapids, twists and turns all the way down and finally tossing you into a landing pool below.
The Anaconda Twist is two twisted and enclosed slide taking its riders into a dark riding experience with thrilling back-to-back turns.
Who says you can't ride on waves in melaka? Come experience the Wave Rider wihout having to use a surf board.
Choose a single or double passenger inflated tube and take a relaxing float down the Lazy & Crazy River of fun while soaking up the sun.
Come and experience this slide together as a family. Slide down a 4-storey high slide in a wide flume with bac-to-back curves creating a memorable experience for each member of the family.
This is a multi-level active water play structure for kids of all ages and it combines 8 slides into one big playground. It also features a water dump waiting to drench anyone in its way!
Melaka Wonderland Theme Park & Resort
Lot PT 17178, Lebuh Ayer Keroh,
Hang Tuah Jaya,
75450 Ayer Keroh, Melaka.
For General & Corporate Enquiries